Online Distance Master Of Commerce(M.Com)
In today's digital age, distance online Master of Commerce (M.Com) courses have emerged as a flexible and convenient option for individuals seeking to elevate their career prospects in the ever-evolving field of commerce. Whether you are a working professional, a recent graduate, or someone looking to upskill and specialize in commerce, an online M.Com course in India offers the perfect platform to achieve your academic and professional goals. A Distance Online Master of Commerce (MCom) course can open doors to new opportunities and propel your career to greater heights.
Advantages of Online Distance M.Com Course
Flexibility and Convenience
Online M.Com courses allow you to study from the comfort of your home or any location of your choice, providing the flexibility to manage your studies alongside professional and personal commitments.
Professional Development
The M.Com program covers a wide range of specialized subjects, providing you with in-depth knowledge and skills relevant to various industries. Whether you're interested in accounting, finance, taxation, or marketing, the curriculum is designed to make you a well-rounded professional capable of taking on complex challenges.
Career Advancement
An M.Com degree enhances your expertise in finance, accounting, marketing, and other crucial business domains, significantly increasing your employability and career advancement opportunities.
Cost-Effective
Compared to traditional on-campus courses, distance online M.Com programs are often more cost-effective. You can save on commuting expenses, accommodation, and other related costs, making it an affordable option for learners from all walks of life.
Banking and Finance
M.Com passed students can pursue rewarding careers in the banking and finance sector. They can work as financial analysts, loan officers, investment bankers, or credit analysts. With India's growing economy and the constant need for financial services, this industry offers a plethora of job opportunities for M.Com graduates.
Chartered Accountant
Becoming a Chartered Accountant (CA) is a popular choice for M.Com graduates. This prestigious qualification enables them to offer accounting, auditing, and taxation services to individuals and businesses. As CAs are in constant demand due to complex financial regulations, M.Com passed students have a competitive edge in clearing the CA exams and establishing a successful career as a CA in India.
Financial Analyst
With a strong foundation in finance and accounting, M.Com graduates are well-suited for roles as financial analysts. These professionals analyze financial data, conduct market research, and make
informed recommendations to help organizations make strategic financial decisions. Their expertise is crucial in maintaining financial stability and growth, making this a rewarding career path with ample growth opportunities.
Business Development Manager
Business Development Managers are responsible for identifying growth opportunities and developing strategies to expand a company's client base and revenue. M.Com graduates with their understanding of finance and business principles are well-equipped to excel in this role, especially in sectors like e-commerce, financial services, and consulting.
Government Jobs
In India, various government departments and organizations regularly hire M.Com graduates for roles related to finance, accounting, and taxation. These jobs offer stability, attractive benefits, and the
opportunity to contribute to the nation's development.
Pursuing a Distance Online Master of Commerce course can be a transformative experience that propels your career to new heights. As the Indian economy continues to grow, so do the career prospects for M.Com graduates. By leveraging their specialized knowledge and skills, they can carve out successful and fulfilling careers in various sectors, contributing significantly to India's economic progress. The flexibility, affordability, and quality of education offered by reputable institutions make it an attractive choice for working professionals and recent graduates alike. Embrace this opportunity to gain valuable expertise and advance your career in the ever-evolving world of commerce. So, take the first step towards success and enroll in an online M.Com course today!
SUBMIT YOUR QUERY
Accreditation & Approvals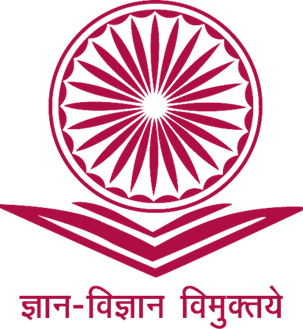 UGC-DEB
Distance Education Bureau A Bureau of University of Grant Commission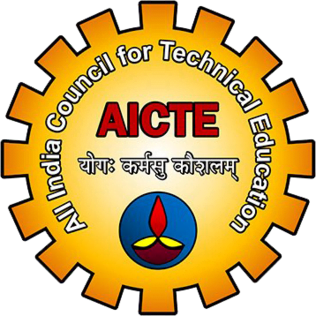 AICTE
All India Council For Technical Education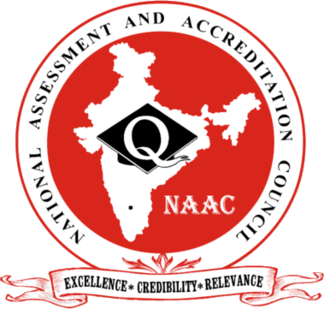 NAAC
National Assessment And Accreditation Council

AIU
Association of Indian Universities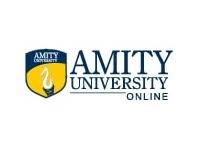 Amity University
is India's first university recognized by UGC to offer Online Degree programs. The university holds A+ accreditation from the NAAC.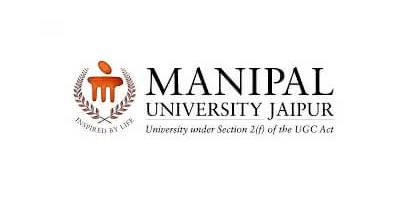 Manipal University
is a state private university. The university is approved by the UGC and accredited A+ grade by NAAC with a CGPA of 3.25. The university offers a flexible learning platform to its students.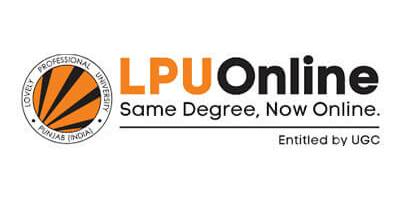 Lovely Professional University
is one of the most famous private universities situated in Jalandhar. The university has gained recognition from several accreditation councils like UGC, AIU, NCTE, AICTE.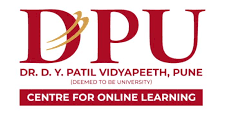 D.Y Patil University
Has 34 years of excellence in Education & is ranked at 41st position in University Category India by NIRF & has received A++ grade from the NAAC.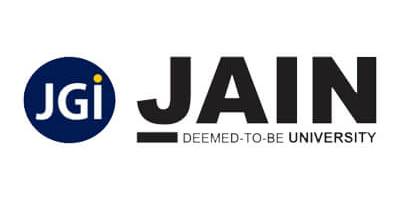 Jain University
Has received A++ grades from the NAAC and is ranked 85 by NIRF. The university believes in providing quality education to their students.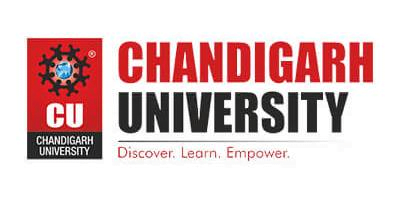 Chandigarh University
Is a leading University offering its students a unique amalgamation of professional and academic excellence. The University has been accredited with the prestigious A+ grade by the NAAC.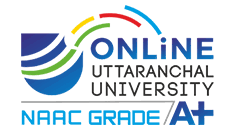 Uttaranchal University
Has been recognized by UGC under section 2(f) & 12 (B) of the UGC Act, 1956 & other statutory bodies of the State & Nation.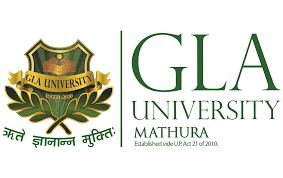 GLA University
was established in 1991 with a vision to provide quality education to the people. GLA is India's 12th Private University to receive 12B status.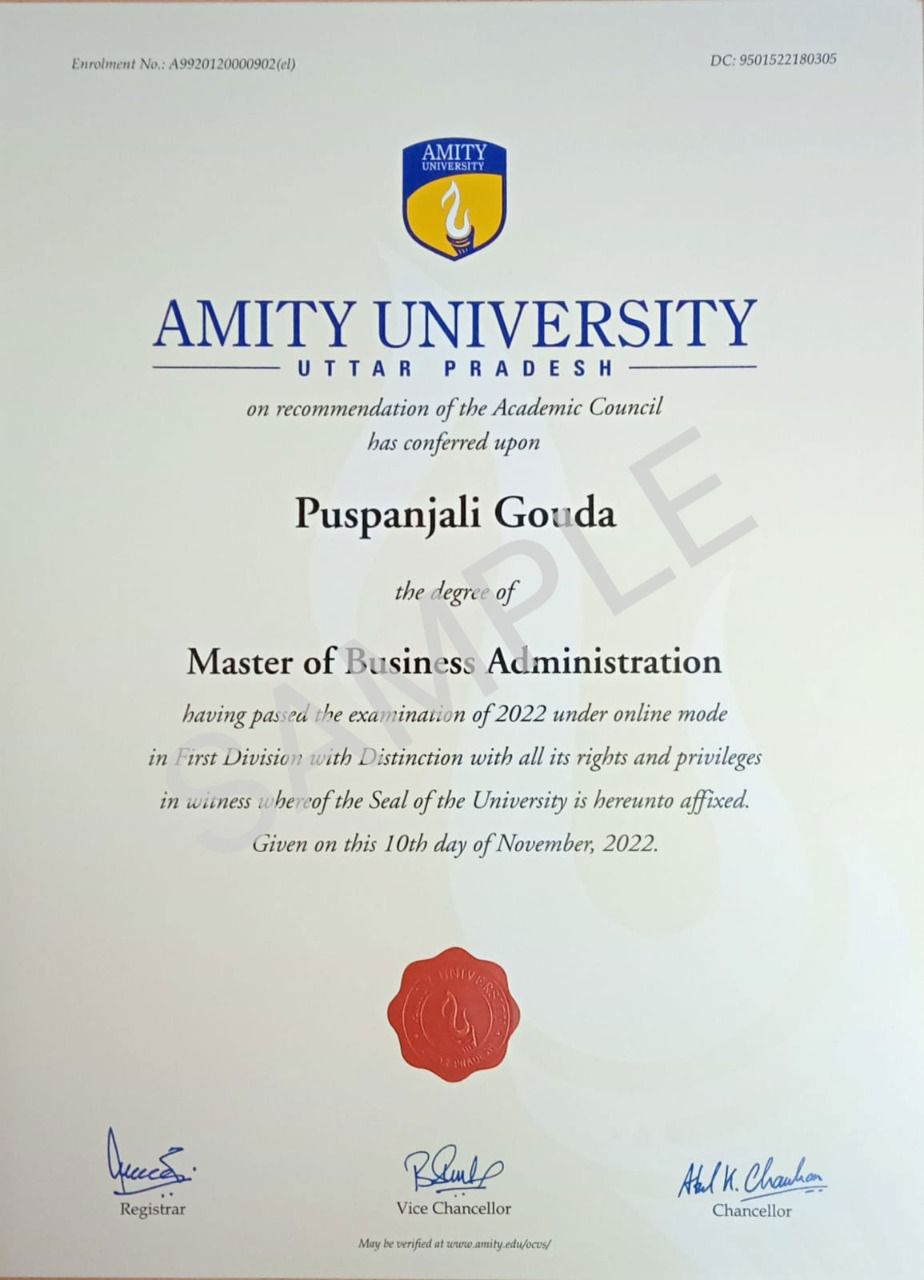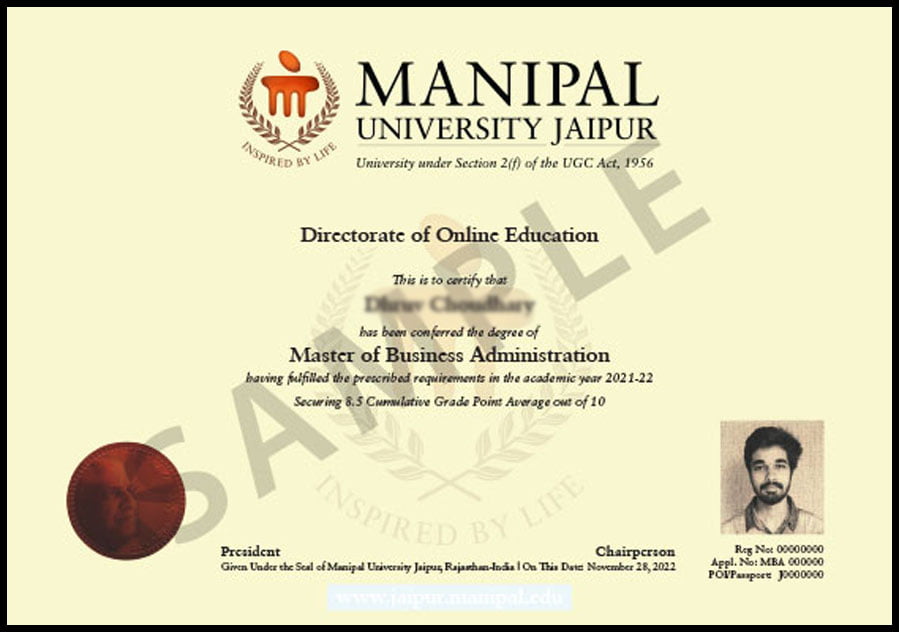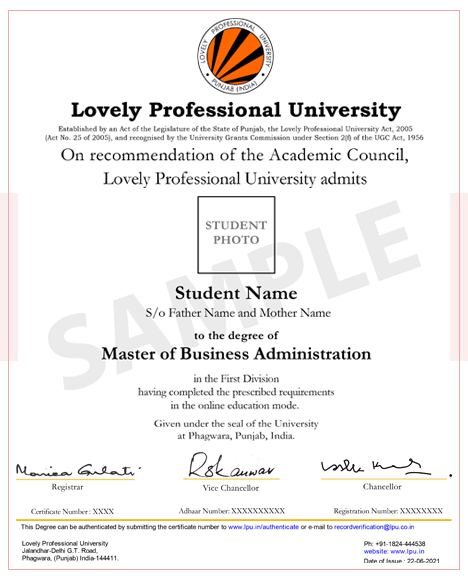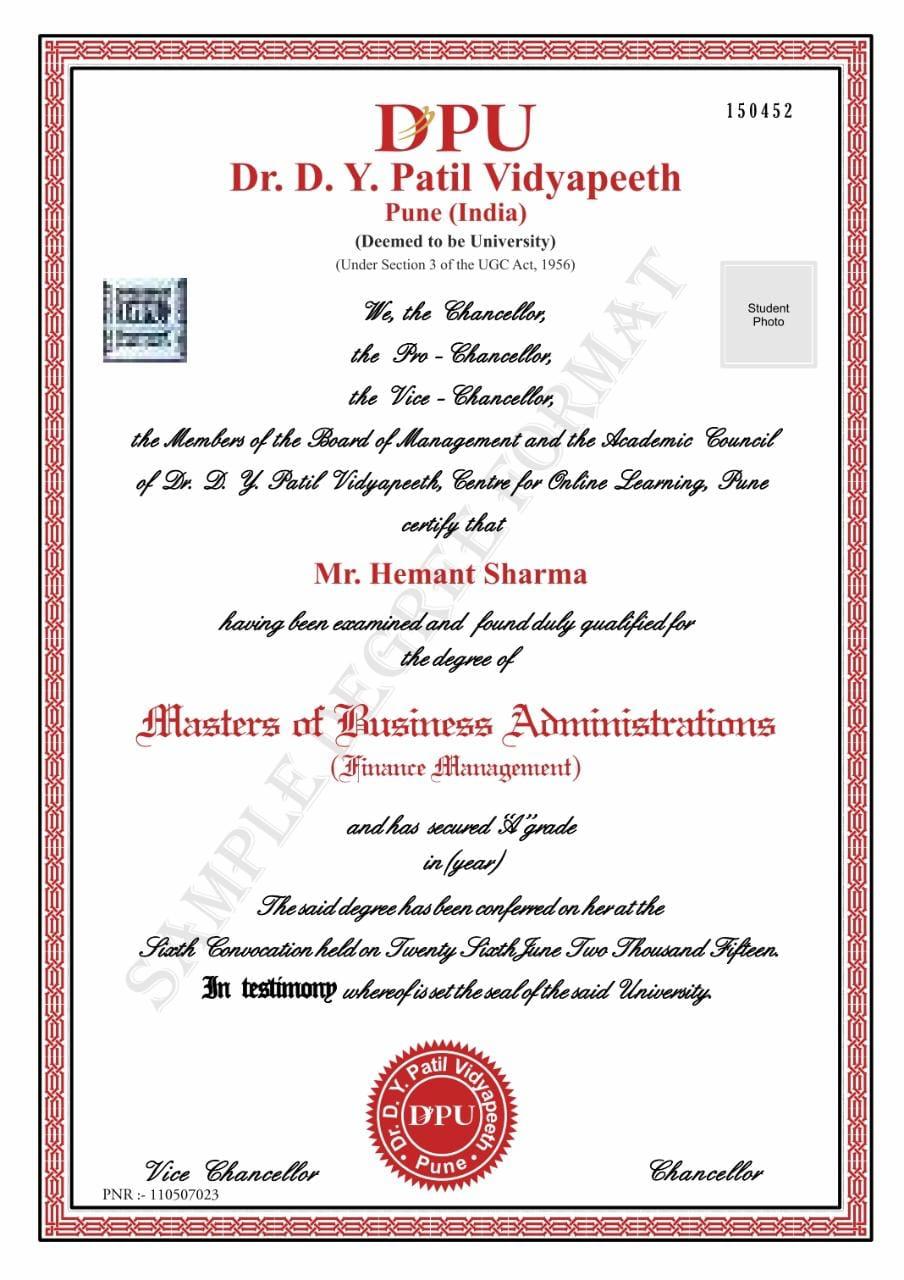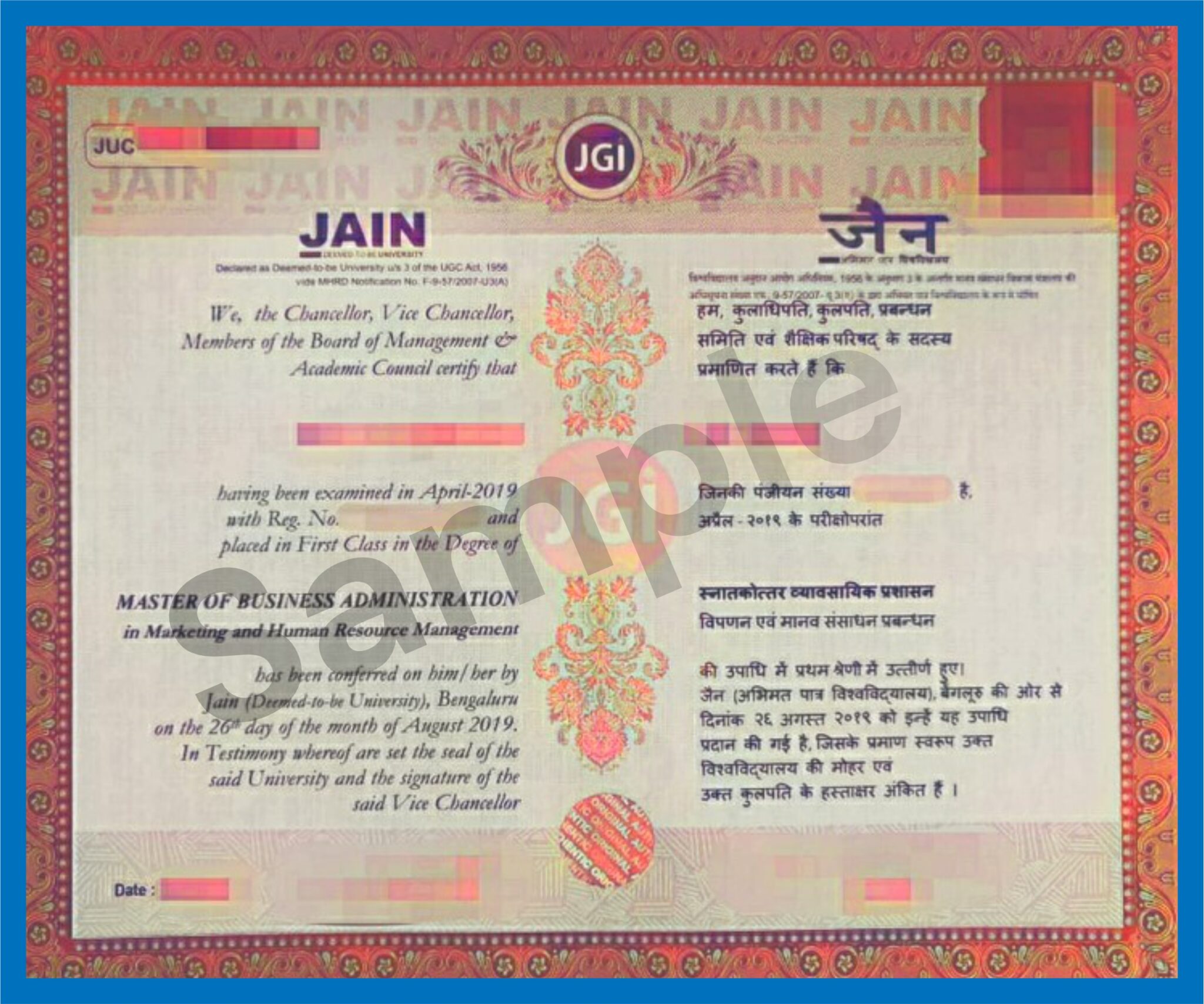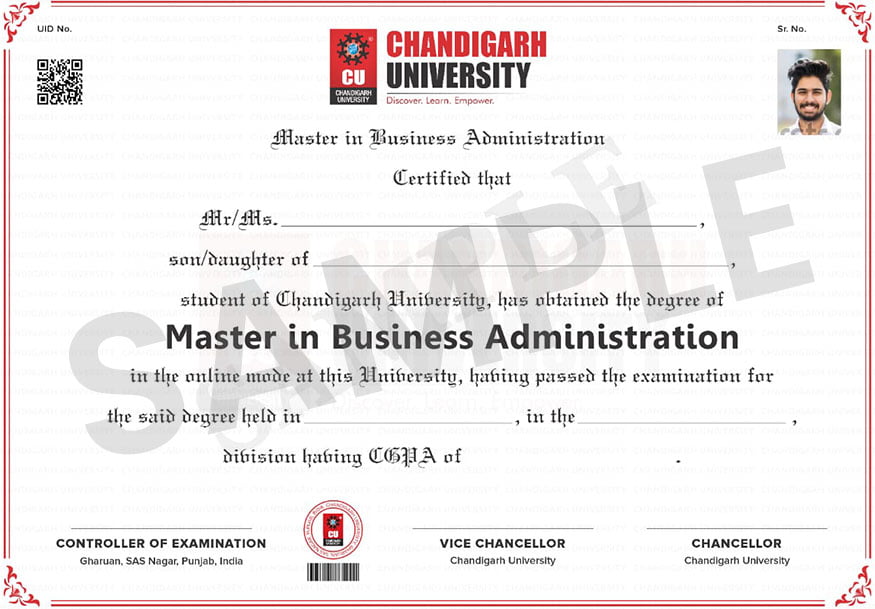 Chandighar University
Specimen of Fianl Degree